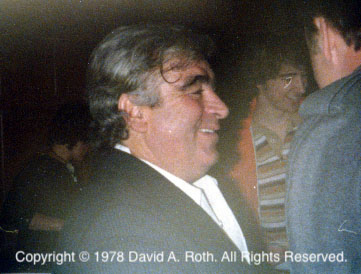 Memorabilia from a Maurice André concert presented by The University of Chicago Extension on October 15, 1978 in Chicago, Illinois at Rockefeller Memorial Chapel. I attended with a couple of fellow Indiana University School of Music students. Three of us packed into a car and rode from Bloomington, Indiana to Chicago, Illinois to hear one of the greats.
Maurice André performed entirely on piccolo trumpet, accompanied by Michel Chapuis on organ. The concert was as beautiful and flawless as his recordings which we were all very familiar with. The concert was held in Rockefeller Chapel and I remember sitting only several rows back from where André was. His performance looked so effortless.
The most surprising thing to me were the physical movements André made while performing. He leaned back while performing ascending passages, very much in the stance that Maynard Ferguson (circa 1978) did at the time.
I took this photo backstage after the performance. Bud Herseth, principal trumpet of the Chicago Symphony Orchestra attended the concert and was warmly greeted by André.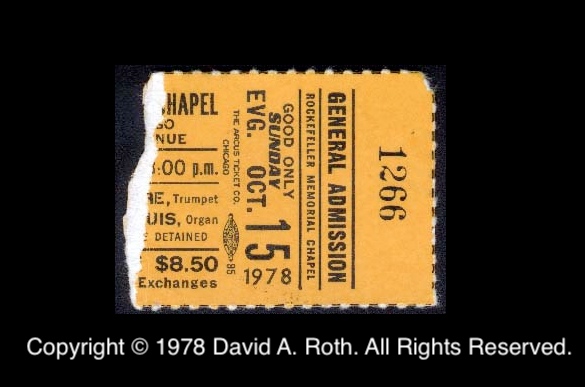 I saved the ticket stub from the concert. Wish I had asked for the ticket to be torn leaving the full artist's name on it.
The printed program from the concert, which Maurice André autographed for me after the performance.