Photo courtesy of Mike Hackett
Premiere of Fired Up! for 5 trumpets as a birthday gift to Bill Adam, Trumpet Professor Emeritus at Indiana University School of Music at his 80th Birthday Celebration in Bloomington, Indiana, on October 25, 1997. The work was titled "Fired Up!" because this is an expression Mr. Adam often uses to start a trumpet lesson: Let's get this thing fired up!
Rehearsal Photos
The photos below were taken during the rehearsal for "Fired Up!" for 5 Trumpets at 7 p.m. on Friday, October 24, 1997 in room MA404 at the Indiana University School of Music. Photos courtesy David A. Roth.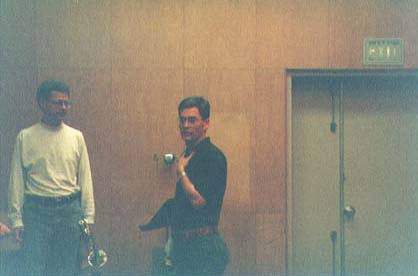 Barry Springer and Karl Sievers
Karl shares his realization with us that he is the only one in the room with a doctorate in music. We looked forward to his lecture at the Irish Lion's, a local pub in Bloomington that evening after the rehearsal. Graduate college credit was not given for attendance on this occasion. Barry looks on wondering as the rest of us did, why Karl looks exactly as he did when we were music students at IU about 20 years ago.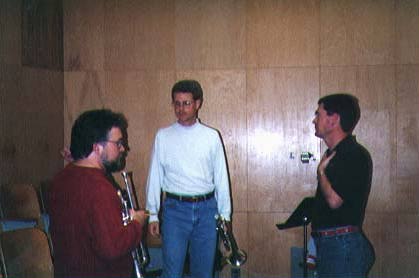 Pat Harbison, Barry Springer and Karl Sievers
Don't let the casual attire of Pat fool you, he stands ready to carry on the jazz tradition at IU since he has recently joined the school of music faculty in the jazz department.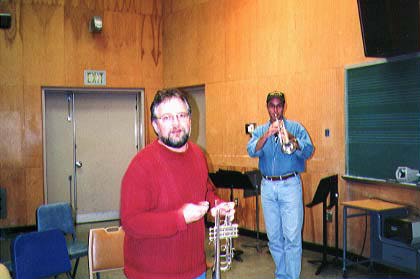 Pat Harbison with Jack Cassidy on Stand-by
in case Robert Baca driving in from Wisconsin wasn't able to make the 7 PM rehearsal. Although you can't see it clearly in this photo, the subtle swaying of Jack comes from spending a lot of time playing aboard cruise ships.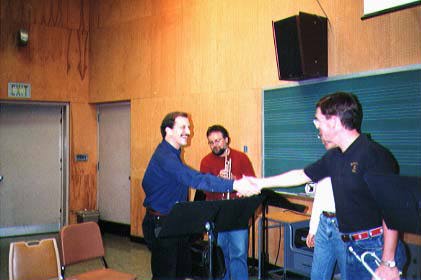 Robert Baca, Pat Harbison, Barry Springer and Karl Sievers
Robert Baca being the pro he is, arrives in time for the rehearsal.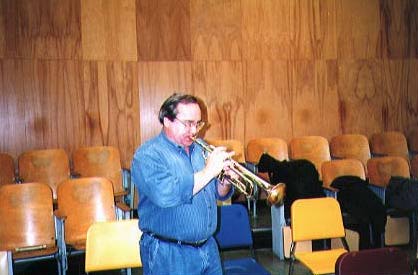 Charley Davis (aka Mr. Jetson)
If you own a radio, TV, record or CD player, then you are familiar with the sound of Charley Davis.