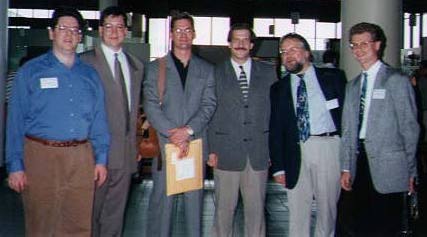 (left to right) David A. Roth with Jay Coble, Karl Sievers, Robert Baca, Pat Harbison and Barry Springer, the Fired Up! trumpet section at the 1998 ITG (International Trumpet Guild) Conference.
The fellows performed Fired Up! at the ITG Festival of Trumpets Conference on May 30, 1998, as a tribute to Bill Adam.
Listen to their ITG Festival of Trumpets performance of Fired Up! including photos of Mr. Adam with Lew Soloff, Fred Powell, Louise Baranger, Vince DiMartino, Joe Phelps, Karl Sievers and John Almeida.

At the ITG banquet following the Festival of Trumpets Concert, ITG President Kim Dunnick formally recognized Bill Adam for his many achievements during a long and successful career.